YOUR RESPONSIBILITY-LIVE POULTRY CARE INSTRUCTIONS
As a buyer of live animals, your responsibility is to provide an environment with proper heat, bedding, food and water as given in our care sheet. The care sheet instructions are to be read at the time of ordering your birds (preparation information) and read again at the time of delivery of birds. A hard copy of the instructions will be sent with your order. Report any unsafe delivery to us as instructed in the below "Live Delivery Guarantee" section. You agree to be free and flexible to pick up your chicks from the post office and have free time to secure the chicks in the brooder. Be around to care for them for the first 24 hours to make sure everything is going well and to see that the brooder temperature is regulated properly. We also require you to watch this video "Care of chicks on arrival" located on our care instruction page.  Be prepared and educated on raising baby poultry before your order arrives.
SAFE AND TIMELY DELIVERY GUARANTEE *Except Peafowl and Rare Ornamental Pheasants*
We guarantee that you will receive a full count of live healthy poultry within 1-3 days through Priority Live Shipping with the USPS. We often place extra chicks of same/like breed and gender you ordered in each box to help fulfill this guarantee. However, if losses should occur in shipment and you do receive fewer live birds than you ordered, we will make an adjustment either by replacing poultry, (please keep in mind quantities and availability of breeds may not be available), or by processing a refund of the per bird price, not including shipping and handling. You can log in for a claim report or call in. You must use a heat source that can maintain a temperature of at least 100 -105 degrees for the first 48 hours in the warm area of your brooder and have a cool area for the chicks to get away from the heat when needed. We do not recommend using puppy pads. See "care of chicks on arrival". Cackle Hatchery does not guarantee mortalities or morbidities after the safe and timely delivery day of arrival.  There is no guarantee for instore and pickup orders after the poultry leaves the store.
LIVE POULTRY MORTALITY OR MORBIDITY NOT GUARANTEED AFTER SAFE AND TIMELY DELIVERY
Cackle Hatchery is unable to refund or replace any poultry after it has arrived safe and in a timely manner. Our pricing is not setup to incur these types of expenses and risk beyond that point. Our replacement or refund policy is only for unsafe or unusually long shipping risks that the USPS causes and must be reported immediately. "Policies /guarantees."   Buying live poultry has inherent risk of successfully raising them and is a buyer's risk. Sometimes things go wrong without any real reason that can be determined even when care instructions are followed.  98% of Cackle's customers experience great success when following our care instructions and video's. "care of chicks on arrival"
OUR RETURN POLICY ON ALL PRODUCTS OTHER THAN POULTRY AND POULTRY HATCHING EGGS
We offer a 30-day satisfaction guarantee. Prior approval is required before merchandise can be returned. You may call or write for approval. We accept merchandise for refund or exchange as long as it is in its original carton or container, has all the appropriate literature, has not been used, and is in a resalable condition. You may be subject to a handling and restocking fee of 10% of the original cost of the item. Merchandise that is drop-shipped from the factory may be subject to additional or different terms set by the individual manufacturers. Refunds will not be issued until the returned item has arrived at our facility. Shipping costs are not refundable, and it is the customer's responsibility to pay for and insure return shipments. Returns cannot be shipped C.O.D.
If an item arrives damaged, if possible, have the delivery driver note the damage to the package upon delivery. If you find that a product is damaged upon opening the package, please call us immediately and we will help you resolve the problem.
Please be sure to include the invoice number with the product.
Shipments to Alaska, Hawaii Puerto Rico, and US Possessions are subject to additional shipping costs.
QUALITY GUARANTEED
All Cackle Hatchery® poultry are guaranteed to be of the grade, quality, sex and breed as represented. Should any error occur, we will make a prompt adjustment. In producing these chicks, the seller has followed approved and recommended methods of flock control and egg selection and has established sanitary and disease control standards in the Hatchery operation. Seller does not warrant poultry to be free from any disease which could not be ascertained at the time of sale. Liability is limited in all cases to replacement of damaged chicks and extra chicks must apply. Replacement good for one time only. Under no circumstances shall our liability, on claims of any kind, exceed the total price paid for poultry. We participate in the United States Department of Agriculture Animal Health inspection service "National Poultry Improvement Plan".
OUR PHOTOS
All of the different pure breed birds are representations of the pure breed poultry named and may or may not be of our bloodlines. Our goal at Cackle Hatchery® is to mate parent stock that will produce chicks that will mature into similar representations of each breed that is photographed. We have numerous flock owners and customers who show their birds at poultry shows throughout the United States. Of course, the birds shown at poultry shows are usually the best-marked bird of their entire flock. Most flocks of a pure breed will have some kind or degree of variance from one bird to another. A large percentage of the photos on our site are of our bloodlines.
PRIVACY POLICY
Your confidence in Cackle Hatchery® for your privacy is very important to us. We have strict standards of security to safeguard your data. The technology we use to protect your data is reviewed often. Only authorized employees and representatives use your data of which they follow standards, procedures and laws. Your personal information and e-mail address are NOT sold and are only used for Cackle Hatchery® to use to communicate with you. However, your name and postal mailing address may be used for Cackle Hatchery®, its affiliate companies, partners and subsidiaries for the purpose of mailing you a product catalog. Signing up for Cackle Hatchery's® Newsletter entitles you to an exclusive e-mail blast on special deals or sales exclusively for those on this Newsletter list. This Newsletter subscriber list is not sold or shared and is used solely for the Cackle Hatchery® Newsletter blast.
SPECIAL OFFERS POLICY
Intermittently throughout the hatching season, Cackle Hatchery® will be hosting specials and limited time offers for our customers. These specials are designed and published in order to provide our customers with a variety of poultry at different times and discounted pricing. Specials can be posted weekly on our company website and also published through the Cackle Hatchery® newsletter. All specials will have a duration time in which they are valid and also a date that they expire. This means in order to qualify for the special pricing, orders must be placed in between the dates specified. Orders placed prior to the specials start date or after the expiration date does not qualify for special pricing. Specials usually will need to be shipped within 2 weeks of the order date. If other birds ordered are not available for shipment within 2 weeks you must place a separate order for them, and they will be shipped at a later date.
WEBSITE PRICING
While we have taken every precaution to ensure accurate prices, we cannot guarantee the website to be free of pricing and description errors. Also, prices may change without notice. The merchandise prices on this website supersede all prior prices.
FREE SHIPPING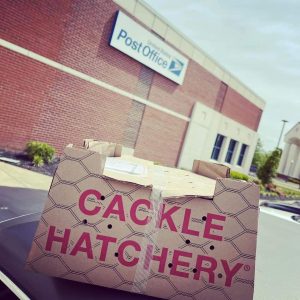 Free shipping is only for poultry specials that indicated the poultry package and shipping is all one price. Free Shipping is also only for products that are indicated free shipping. FREE SHIPPING is when the total order of any supplies exceeds $25.00. A supply order of less than $25.00 will have shipping added to the order (generally an additional $9.99).  Supplies mean any products that are not live poultry. Free Shipping IS NOT for any items going to Hawaii or Alaska and is intended for the lower 48 states. Cackle Hatchery® reserves the right to discontinue or change our Free Shipping offer.
WHERE CAN WE SHIP? We ship poultry ONLY to the United States and NOT Internationally. We DO NOT ship poultry, equipment and supplies Internationally. We do not ship the "Fry Pan Special" to Hawaii and Alaska unless an additional fee is paid.
SPECIAL REQUIREMENTS FOR SHIPPING TO HAWAII: We are currently not shipping to Hawaii. They are as follows: Hawaii orders must be placed at least  2-3 weeks in advance and we can only ship chickens. We do not ship turkey, waterfowl and other poultry to the state of Hawaii. There is a $25 non-refundable processing fee for all Hawaii orders. The order must have at least $100 dollars' worth of birds to qualify, not counting the processing fee or shipping and handling charges. No changes can be made to the order after it is put in for a permit.
STIPULATION ON SHIPPING TO ALASKA: We are now charging a $25.00 non-refundable fee for orders shipped to Alaska. As far as our 100% live arrival guarantee goes, any losses called in within the proper time frame will be refunded only. We will not be offering any reships to Alaska. You may start a brand-new order if you choose to get any replacement birds, but you will be charged normal ship/handling costs plus the $25.00 non-refundable fee.
$10.00 DISCOUNT FOR QUALIFIED YOUTH PROGRAMS: This discount is for pre-ordered phone sales only. Discount applies to Live Poultry only. Discount does not apply to in-store sales from the brooder or any sales of assortments or specials. This discount is only good at the time of ordering by phone and is not given after an order is placed. There is no longer a maximum number of birds allowed per child and the $10.00 discount will be applied to all orders. You will be requested to furnish your group name and/or leaders to us by phone.  Generally organized youth poultry club, FFA projects, and 4H projects with the above restrictions qualify for this discount.
GENDER SELECTION AVERAGES 90% ACCURATE
Gender selection is not a perfect science for most of the poultry we offer. Some are easier to determine than others. Some breeds like the black sex link are about 99% accurate while some Marans and Ameraucana can average at 80%. However, we do offer a 90% accuracy on our gender selection across all our poultry that offers gender selection purchases. If there is an error and we do not live up to our stated guarantee, we will refund the female baby chick purchase price under 90%. In other words, if you have over 10% that are roosters of your female baby chick order we should be able to refund at female baby price outside of the 10%. Claims must be sent directly to us when chicks are not more than 8 months old. We can no longer accept claims when the birds are older than this. We have one of the best rated and multiple genders selection methods in the industry, but again this is not a perfect science. It is recommended that you give some thought to the possibility of receiving 10% males and what you would need to do under that circumstance. We do not have any guarantees on percentages on males or females for not sexed/straight run chicks. We do not offer gender selection on all the breeds we sell. For some breeds, it is either too hard on them or because the professional sexers' accuracy is not good enough and would cause customer dissatisfaction. Please check out our blog Planning Your Spring Chick Order on our blog page
OUR RESPONSIBILITY
Cackle Hatchery's® Responsibility to you as a customer is to provide healthy good quality chicks that arrive to you alive and in good condition.
$10.00 CANCELLED ORDER FEE FOR POULTRY AND SUPPLY ORDERS (RESTOCKING FEE) No canceling of orders 48 hours prior to your ship date. Any orders placed and then cancelled will have $10.00 deducted from the total purchase and shipping price. The difference will be refunded by check and if paid by check, and if paid by credit card will have the credit card credited back the difference. The reason behind the fee: Orders paid for/booked are taken off the market for sale and are marked sold. We could have a lost opportunity for a buyer if cancelled. Cancelled orders create bookkeeping and labor cost to process that cancelled order and along with postage or credit card fees to reprocess credits. Again, our poultry pricing is not formulated for a cancelled order cost. We do make exceptions for the fee for emergencies and will move a ship date to another date; however, every effort should be made to be prepared to receive your chicks on your given date. Refunds are processed ASAP, but on busy rare occasions can take up to 3 weeks to be completed.  It is customary practice for customers to order their poultry 2-8 weeks in advance of the time they would like them delivered. Since live new chicks become perishable the day they hatch, it is necessary to have them all sold well before their hatch date.
HOW WE SHIP? Newly hatched chicks have their 3-day supply of yolk still in their system to sustain them for their trip to your home. We ship every Monday and Wednesday using USPS and your birds should arrive at your post office or mailing address within 2 days. Your confirmation notice will give you your hatch/ship date. You should be very flexible around your delivery date so you can take your birds immediately to your brooder to be warmed up so they will start eating and drinking.
BOXING
All poultry will be boxed according to the weather, so the poultry will have the best chance of survival. Because of this, breeds and sexes must be mixed. Unless indicated by you, breeds and sexes will not be marked. Additional shipping and handling costs may be required for extra boxes and materials during hot weather in order to avoid chicks from getting overheated during shipping.
ABOUT BREEDING BLUE: 
Breeding blues to blue do not produce all blue offspring, they produce roughly 34% blues, 33% dark blues/black and 33% splash.
WE NO LONGER ACCEPT ORDERS BOOKED WITHOUT PAYMENT
Orders must be paid at the time of booking the order.
RETURNED CHECK CHARGE
$25.00
CHANGES OR ADDITIONS TO AN EXISTING ORDER
Unfortunately, due to our new ordering system, we can no longer make any changes to orders. Orders must be cancelled and will be refunded as soon as possible; however, you will have to place another order with the changes you are needing to make. Your original order date of a cancelled order will be lost, and you will have to reschedule your new order with updated available dates for breeds.  We apologize for any inconvenience this may cause you. If you place your new order and cancel the original, we can waive the cancellation fee. If you are registered on our web site, you may have options for some changes to your orders.
STARTED PULLETS GUARANTEE
We guarantee that you will receive a full count of live, healthy poultry according to this guarantee. However, if losses should occur in shipment and you do receive fewer live birds than you ordered and paid for, we will make an adjustment by refund of the per bird cost of $30.00 each not including shipping and handling. We cannot reship.   Any loss must be reported to the hatchery within 48 hours of receipt for any adjustment to be made.
MAREKS VACCINATION PRICING?  0-66 chicks are a flat fee of 10.00. Anything over 66 multiply x .15, Do not add 10.00 to the total! Example: 100 chicks x .15= $15.00 total Marek's charge. For more information https://www.cacklehatchery.com/vaccination-policy/
A RESERVED HATCH/SHIP DATE CAN CHANGE
Every effort is given to accurately predict a hatch date for your order and we reserve those eggs for your order. However, most of the time we are predicting numbers of eggs to be laid in the future and predicting hatchability. On rare occasions we must roll orders to another date if we have an incubator/hatcher go down, or flights cancelled, or USPS delivery problems that cause us to reship a lot of orders.
MAIL ORDER CHICKS REQUIRE HEAT BULB NOT HEAT PLATE
Mail order poultry is entirely different than poultry hatched out in an incubator at home or under a hen. Mail order poultry require much more heat initially for the first 2 weeks than a heat plate generally can provide. Mail order chicks need their body temperature rapidly and immediately and artificially warmed up to 104 degrees (which is a mother hens' temperature). Most heat plates do not do this.  The chick does not have the ability to generate enough of its own heat immediately on arrival and sustain its own temperature. About the time of arrival, the chick is losing it's (mother nature protection). Generally, after the first 2 weeks of using a heat lamp you can switch to a heat plate that does not put out any light so the chicks can adjust to a more circadian rhythm. They no longer need light 24/7 for a fast start for eating and drinking and now the 24/7 light will stress them at this point.  Blog "how to care for baby chickens delivered by mail". Blog "how to care for bantam chicks shipped by mail". Video, guides and examples "baby chick care instructions"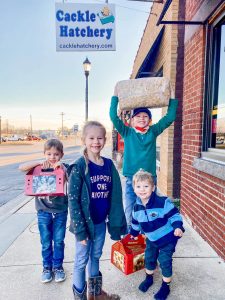 PICK UP ORDERS
Pick up dates are either the Tuesday or Thursday following your hatch/ship date. We send out an email confirming your order and pickup date at time of reserved purchase. In addition we try to send out an email the day of hatch or the morning after letting you know your order is ready for pick up. If you do not receive an email by the morning of your pickup date, please call the office and let us know before you drive to pick up your birds at Cackle Hatchery. There is NO guarantee of mortality or morbidity once the baby poultry leave our store. Be sure to check your box of chicks before you leave the store. Your order must be picked up on the scheduled pick up date. There will be NO rescheduling or refund if not picked up on your scheduled pick up date.