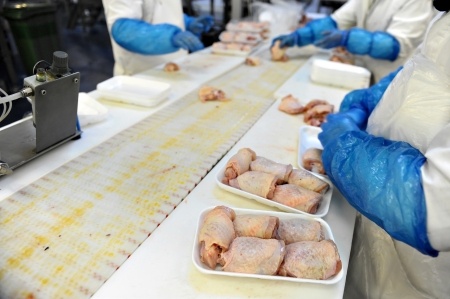 On November 23, the Oklahoma-based company National Steak and Poultry issued a recall of roughly 17,000 pounds of ready-to-eat chicken products that had been packaged in early October. These products included a number of pre-cooked products including the popular Hormel brand of roasted chicken breast strips.
This initial recall stemmed from concerns that the products had been undercooked, possibly leaving them contaminated with harmful pathogens. Then, a few days later, National Steak and Poultry received a customer service complaint about another batch of undercooked chicken products. This complaint lead the U.S. Department of Agriculture's Food Safety and Inspection Service (FSIS) to increase the scope of the recall dramatically. As of December 4, nearly 2 million pounds of chicken products have been recalled.
The expanded recall affects a much broader variety of products that were produced between August 20 and November 30 of 2016. National Steak and Poultry and the FSIS are urging anyone who may have purchased pre-cooked chicken products during this period to discard them or return them to their place of purchase rather than consuming them. So far, thanks to the company's swift response to the issue, there have been no confirmed reports of adverse health effects or illnesses associated with the consumption of the affected products.
Pre-cooked meat products might be convenient for consumers, but they should always be inspected carefully before they make it to the dinner table. But for those of us who are fortunate enough to raise our own birds, we can rest easy knowing exactly where our dinner came from and how it was prepared.
Stay tuned for more updates from the Cackle Coop!