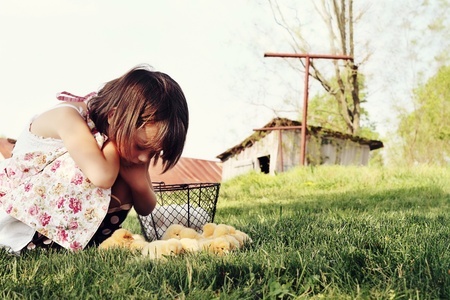 Raising baby chickens is a joy, especially for families with young children, but it requires care and preparation. Follow our suggestions below and the process will be fun and enriching, without too much mess or stress!
In the early stages of your chicks' lives, they'll require a great deal of your attention. There should be someone available to check in on the chicks at least 5 times per day, for the first few weeks especially.  Depending on the time of the year you could use the garage or utility room to get the baby chicks started.
The next step is to make sure the chicks have a warm, comfortable environment to live in. Providing heat for baby chicks is particularly important. We recommend buying 125-watt infrared lamps. The first week, the chicks will require an ambient temperature of 95 degrees around the floor level under the heat lamp. Decrease the temperature by 5 degrees each week until your chicks are ready to move outside.

A good way to judge the ideal temperature is to observe the chicks in their habitat. Are they crowding under the heat source like they are too cold? Or are they avoiding the hot bulb and sticking to the outside area? Adjust the lamp accordingly.
Consider using pine shavings for the bedding of the habitat; newspaper can get slippery and can lead to leg injuries in your chicks. Feed is readily available at your local pet store, as well as feeders and waterers made especially for chicks.
Want to learn more about caring for your baby chicks? Check out our comprehensive care guide here!
[msh_feedburner]