Colonel Sander's recipe for Kentucky Fried Chicken, made with 11 herbs and spices, is no longer a well-kept secret. The original KFC recipe appeared in the Chicago Tribune after being submitted by Colonel Sander's nephew Joe Ledington.
Mr. Ledington found the recipe in a scrapbook belonging to his late Aunt Claudia, the Colonel's second wife. Ledington claimed he used to blend the spices for his uncle's world famous fried chicken, and verified that the recipe he found in his aunt's scrapbook is indeed the real deal.
Joe Gray, food writer for the Chicago Tribune tested the KFC 11 herbs and spices recipe and says it tastes just like the chicken prepared at KFC restaurants. Here is the recipe as published by Mr. Gray:
Fried chicken with 11 herbs and spices
Makes: 4 servings
2 cups all-purpose flour
2 teaspoons salt
1/2 tablespoon dried thyme leaves
1/2 tablespoon dried basil leaves
1 teaspoon dried oregano leaves
1 tablespoon celery salt
1 tablespoon ground black pepper
1 tablespoon dried mustard
4 tablespoons paprika
2 tablespoons garlic salt
1 tablespoon ground ginger
3 tablespoons ground white pepper
1 cup buttermilk
1 egg, beaten
1 chicken, cut up, the breast pieces cut in half for more even frying
Expeller-pressed canola oil
Mix the flour in a bowl with all the herbs and spices; set aside.
Mix the buttermilk and egg together in a separate bowl until combined. Soak the chicken in the buttermilk mixture at room temperature, 20-30 minutes.
Remove chicken from the buttermilk, allowing excess to drip off. Dip the chicken pieces in the herb-spice-flour mixture to coat all sides, shaking off excess. Allow to sit on a rack over a baking sheet, 20 minutes.
Meanwhile, heat about 3 inches of the oil in a large Dutch oven (or similar heavy pot with high sides) over medium-high heat to 350 degrees. (Use a deep-frying thermometer to check the temperature.) When temperature is reached, lower the heat to medium to maintain it at 350. Fry 3 or 4 pieces at a time, being careful not to crowd the pot. Fry until medium golden brown, turning once, 15-18 minutes. Transfer chicken pieces to a baking sheet covered with paper towels. Allow the oil to return to temperature before adding more chicken. Repeat with remaining chicken. 
Who Needs 11 Herbs and Spices?
My family hasn't eaten KFC for many decades, since we enjoy our own homegrown broilers. But when I ran across the KFC recipe I just had to try it. It was easy and the finished chicken looked terrific, but it tasted more like herbs and spices than like, well, chicken.
I don't even salt my fried chicken. To make my not-so-famous, not-so-secret fried chicken recipe, I soak the chicken pieces in buttermilk (or milk) and egg, just as KFC does. For the coating I dip the pieces in wheat germ and sprinkle them with paprika, then let them set for a few minutes so the coating sticks before the pieces are fried.
Roasted "Fried" Chicken
Okay, so let's say you're not so fond of deep fried food. Here's my other "fried" chicken recipe, which is not really fried but instead is roasted in the oven:
1 tablespoon butter
1 tablespoon vegetable oil
1 chicken, skinned and cut up
paprika
pepper
flour
Heat butter and oil in a cast iron skillet until the butter is melted.
Roll chicken pieces in the butter-oil mixture. Remove from skillet.
Sprinkle chicken pieces with paprika and black pepper.
Dust chicken pieces with flour.
Arrange the pieces in the cast iron skillet. Roast at 425°F 15-20 minutes. Turn, roast 15-20 minutes more.
If you are roasting surplus cockerels of a dual purpose breed, such as the barred Plymouth Rock, and you harvest them at 8 to 10 weeks of age, they need less roasting to keep the tender meat from drying out. Set the oven to 400°F and roast the pieces no more than 15 minutes on each side. If you don't have a cast iron skillet, you can roast the chicken in a regular baking pan.
No matter how you fry it — the Colonel's way, my way, in the oven, or using your own favorite recipe — chicken raised in your own backyard is always finger lickin' good.
Make your own and let us know how it turned out in the comments. And that's today's news from the Cackle Coop.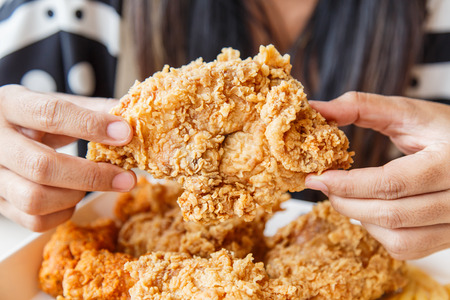 https://www.cacklehatchery.com/
Gail Damerow, author, Storey's Guide to Raising Chickens