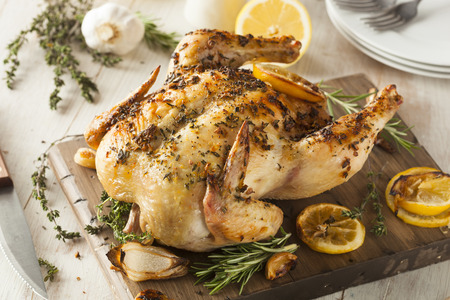 Raising a flock of chickens to put food on the table for you and your family? If so, the Cornish Cross is an excellent breed to consider as it will provide you with more than enough meat to make some delicious meals. Give this herb-stuffed roasted chicken recipe a try with your Cornish Cross hens.
Ingredients
This recipe calls for two Cornish hens that are 20 to 24 ounces each, 12 fresh sage leaves, 4 lemon wedges, 6 green onions, 2 tablespoons of butter, 1 tablespoon of olive oil, 1 tablespoon of lemon juice, 2 garlic cloves, 1 teaspoon of kosher or sea salt, 1/4 teaspoon of coarsely ground pepper, and 6 small red potatoes.
If you only want to cook one hen, you can simply cut the rest of the ingredients in half. Each hen typically serves 3-4 people.
Prep and Cooking Time
This dish will take about 20 minutes to prepare and about 70 minutes to cook.
Directions for the Recipe             
Start by preheating your oven to 375 degrees and placing sage leaves underneath the skin of the chicken breasts. Next, place the lemon wedges and about 1/3 of your onions into each hen's cavity before tucking the wings under the hens and tying the legs together. Once that's done, place the hens into a greased roasting pan.
After you're finished with those steps, combine the butter, lemon juice, garlic, and oil and spoon it over top of the hens before sprinkling them with salt and pepper. Next, bake the hens for 30 minutes before taking them out of the oven and adding potatoes and the rest of the onions to the pan while brushing them with your remaining butter. The hens will then go back into the oven for about 40 to 45 minutes.
Once the hens are done cooking, remove them from the oven again and put them on a serving platter. You can also stir the potatoes and onions and put them on the serving platter as well. And there you have it! A delicious, 90-minute meal that can feed the whole family.
That's today's news from the Cackle Coop!