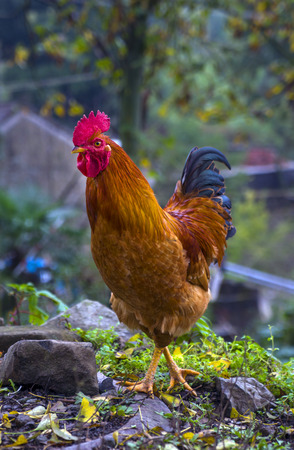 Roosters are strictly forbidden by Pittsburgh's city code, but that hasn't stopped one rooster from taking up residence in the Steel City. Now known as Rudy, the rooster began squatting on the property of 69-year-old Henry Gaston a few years ago. He was originally accompanied by two other roosters, but they have since been apprehended by animal control agents and relocated to a nearby farm. Rudy, however, has proven to be especially elusive.
Gaston initially tried to capture the bird, but an injury prevented him from being able to keep up as it ran away. Next, a city inspector tried to nab Rudy after receiving complaints from neighbors about his loud crowing. She too failed to catch the wily bird. Two more attempts by animal-control agents and an assistant city solicitor were thwarted by Rudy's lust for freedom as well. Now, city officials have enlisted the help of a professional from 600 miles away to help them finally get Rudy off the streets.
Frank Cantone is a chicken rescuer from St. Louis who first heard about Rudy in an online forum. He keeps a number of chickens of his own, most of which were rescued from the St. Louis area. After learning about Rudy's plight, Cantone volunteered to drive to Pittsburgh and help catch the rooster free of charge. He'll bring his two daughters, age 10 and 12 along for the ride as well.
Cantone has three different plans for catching Rudy. First, he'll try scattering chicken feed and sunflower seeds on the ground around Rudy's hideout. He'll keep some extra feed in a gloved hand, and try to lure Rudy into eating from the glove, at which point he'll grab him with his free hand. This method has worked twice for the chicken rescuer in the past.
If his Plan A doesn't work, Cantone will turn to his daughters for help. Neighbors have reported that Rudy is especially fond of children, so he hopes that his daughters might be able to distract the rooster long enough for him to sneak up and catch it.
If his daughters can't fool Rudy, Cantone has one last trick up his sleeve. Chickens have terrible night vision, which makes them easier to catch under cover of darkness. Cantone will wait for Rudy to roost in his favorite tree after night falls, and then use a step ladder to catch the bird while he sleeps. Cantone is hell-bent on capturing Rudy, saying he won't leave town until he catches him. Once he does, Rudy will have a new home with Cantone and his family in St. Louis.
And that's today's news from the Cackle Coop!