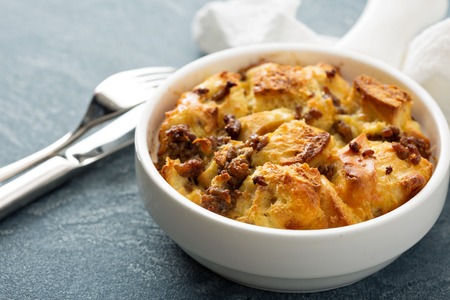 Are your hens laying more eggs than you know what to do with? Making a casserole is a great way to put all those eggs to good use. Plus, you'll never have to worry about what to fix for breakfast in the morning. Just take a helping of your casserole out of the fridge and you'll be ready to start the day.
Check out one of our favorite recipes for a delicious sausage and egg casserole below!
This recipe comes from the folks at Taste of Home magazine.
Ingredients:
1 lb. breakfast pork sausage roll
6 large eggs
2 cups milk
salt
1 tsp. ground mustard
6 slices white bread, cut into ½ inch cubes
1 cup shredded cheddar cheese
Directions:
Start by browning and crumbling the sausage in a skillet; drain and set aside. Next, beat your eggs in a large mix bowl, then add milk, salt and mustard. Finally, stir in the bread cubes, cheese and sausage.
Once you've mixed your ingredients, pour them into a greased 11" X 7" baking dish. Cover the dish and refrigerate for eight hours or overnight. Remove the dish from the fridge 30 minutes before baking. Bake uncovered at 350° for 40 minutes or until a knife inserted in the center of the casserole comes out clean.
If you want to add a spicy kick to your casserole, you can add 8 oz. of chopped green chilis to the recipe as well. This casserole is so easy to make and it can feed the whole family. Try it in your kitchen and let us know what you think!
And that's today's news from the Cackle Coop.