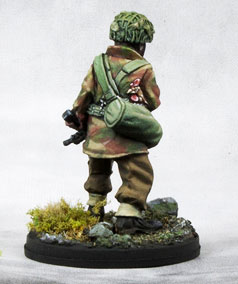 This September marks the 75th anniversary of World War Two's Operation Market Garden, during which a hen named Myrtle parachuted into the Battle of Arnhem with Britain's 1st Airborne Division.
Summer of 1944 was hot in Leicestershire, England, as paratroopers of Britain's Tenth Battalion, Parachute Regiment waited for deployment. Irritable after a series of proposed then cancelled operations, the men got into a beer-fueled argument over whether or not chickens can fly. Lieutenant (Quarter Master) Pat Glover argued that chickens can, indeed, fly and he set out to prove it.
The next day he visited a nearby farm and, without the owner's consent, according to archives of the Leicester Branch Parachute Regimental Association, spent the better part of an hour trying to catch a chicken. Finally triumphant, he named his small reddish-brown prize Myrtle.
He kept the hen in his office, perched on an iron bar on his desk. To his superior officers he claimed the bird was living rations, pointing out that a good quartermaster plans ahead for food shortages.
During a subsequent parachute exercise, Lt. Glover put Myrtle in a zippered canvas duffel bag hung over his left shoulder. After jumping from 600 feet and opening his parachute, he unzipped the bag. Myrtle poked out her head, took one look around, and retreated back into the bag.
At about 50 feet, Lt. Glover released Myrtle from the bag. With a lot of loud complaints and wing flapping, Myrtle managed to land safely. Lt. Glover was in such a hurry to collect her before she got away that he forgot to collapse his parachute, and ended up being dragged across the field clutching the hen.
Myrtle went on to make six more jumps, and soon learned to wait patiently for the lieutenant to retrieve her. During each successive jump she was released from a higher altitude, eventually from as high as 300 feet. Having completed a regulation six drops, she was awarded her parachute wings, which she wore secured around her neck.
Finally, the battalion was deployed to Arnhem, Netherlands, for Operation Market Garden. On the day of the drop, Myrtle was safely stuffed inside Lt. Glover's parachuting jacket. On landing, he deliberately rolled onto his right shoulder to avoid squashing the hen.
Both landed safely, but in a subsequent firefight, Myrtle's bag was riddled with bullets. Inside the bag, Myrtle lay dead. Having been Killed in Action, the hen was given a military burial on the battlefield, interred inside her canvas bag wearing her parachute wings.
A 31-page book The True Story of Myrtle the Parachuting Chicken During World War Two has been written about Myrtle's exploits. The story is charmingly told from the hen's perspective.
Leicestershire's Everards Brewery has released a specialty beer called Myrtle. Some of the proceeds go to Friends of the Tenth to build a memorial to the brave soldiers of the 10th Battalion. Fittingly, the beer is brewed with two British specialty hops — pilot hops and flyer hops.
One of the miniature World War Two tabletop action figures in the series Stoessi's Heroes, depicts Lt. Glover. His figurine includes a chicken peering out from a duffel bag slung over his shoulder.
Myrtle is also mentioned in Cornelius Ryan's book A Bridge Too Far. In the film based on the book, a Myrtle double can be seen in an all-too-brief cameo role as the camera tracks past paratroopers aboard the Dakota transport plane on their way to the drop zone in Arnhem.
Operation Market Garden was the largest airborne operation in history, and the Allies' worse defeat of World War Two. For the nine days from September 17 to September 25, casualties amounted to some 31,000 troops — about 13,000 Germans and 18,000 Allies, including one para chicken named Myrtle.
And that's today's news from the Cackle Coop.
Gail Damerow, author, The Chicken Encyclopedia