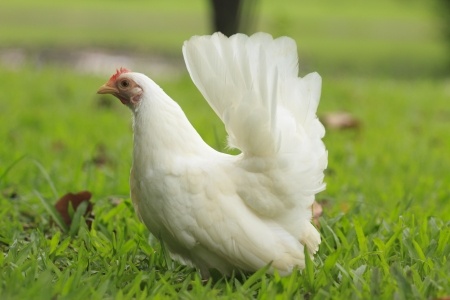 As concerns about the ethical implications of factory farming operations have come to the forefront of society's consciousness, more and more Americans are becoming interested in producing their own food in order to free themselves from reliance on store-bought alternatives. In an effort to educate suburbanites about the viability of backyard farming operations, Rutgers has begun offering workshops for homeowners in New Jersey interested in raising their own small flocks of chickens.
Thus far the program, dubbed the Backyard Farmers Workshop, has been remarkably well received. Rutgers hopes to expand the curriculum next year to cover other topics such as beekeeping, cattle care and strawberry growing. Joseph Heckman, a professor of soil science at Rutgers, lead the class on backyard chickens, teaching attendees about a variety of subjects including chicken coop design and the nutritional benefits of pasture-raised food.



The program aims to teach interested homeowners just how much potential a small postage stamp lawn has to produce significant quantities of nutritious, sustainable food items. Rutgers also hopes to educate people about the value of the work that goes into producing your own food.
They also note that it's important for homeowners to check with their local municipalities to make sure there aren't regulations prohibiting the raising of backyard chickens. According to Heckman, "More towns are changing their ordinances and are beginning to appreciate that It can be done at it can be done well. One of the neat things that Rutgers is doing is teaching people how to do it well, so it's not a problem and doesn't cause neighborhood issues."
With more and more educational resources such as this cropping up in unexpected places all over the country, it's an exciting time to finally indulge your interest in backyard farming. If these folks in New Jersey can do it, there's no reason you can't, too! Stay tuned for more updates from the CACKLE COOP.