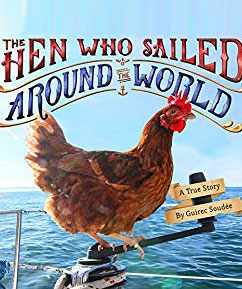 Frenchman Guirec Soudée is sailing around the world with a crew of one — a Rhode Island Red hen named Monique. "I knew I wanted to sail alone, for sure, but I wanted a pet. I thought a chicken would be brilliant, because I could have fresh eggs at sea," Guerec told The Guardian. "I said to myself: 'If she annoys me, I can always eat her.'"
Now, he says, "She's my best friend ever."
In January 2014, at the age of 21, Guirec bought an old, rusty boat he named Yvinec — after the family island in Brittany where he grew up — and, with little sailing experience, headed across the Atlantic. Early in his journey he was given the Rhode Island Red hen, nicknamed Momo, by a friend in the Canary Islands.
Some 45,000 miles and 1261 eggs later, in December 2018 the duo returned to Yvinec island for a much-needed rest. During their five years at sea, they had crossed the Atlantic, survived on rice and corn for 130 days while stuck in ice off the coast of Greenland, survived 50-foot waves that nearly capsized their boat, and visited with Inuit children who had never before seen a chicken.
"We crossed the famous Northwest Passage in 32 days and 30 eggs," Guirec relates in his crowdfunding plea. "I'm proud to say that I'm the youngest sailor, and Monique the only chicken in the world, to have accomplished such an adventure." Their experiences have been published in a children's book, The Hen Who Sailed Around the World, as well as two other books published only in French.
Asked by The Guardian, if the Rhode Island Red really was the same hen all the way, Guirec responded, "People ask me that all the time. But if I had lost Monique, I would have been terribly sad and I wouldn't have got another hen. It would have been completely different."
Guirec and Momo are now crossing the Pacific "from top to bottom," with the goal of reaching Antarctica. Follow them on their website, on Facebook and on Instagram.
And that's today's news from the Cackle Coop.
Gail Damerow, author, The Chicken Encyclopedia