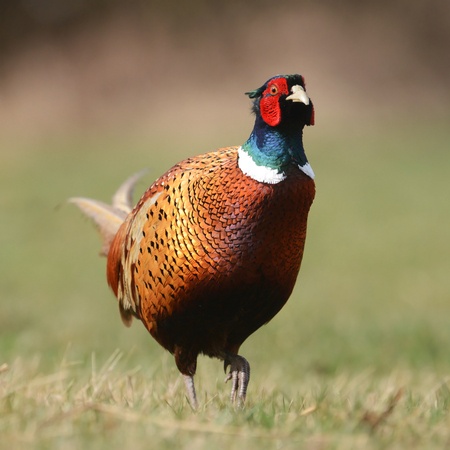 Spring is an exciting time at Cackle Hatchery and we're busy getting ready for the season to arrive. Pheasants and chukar are some of our biggest sellers, with chicks beginning to hatch and prepare for shipping in May. As we get ready for the warmer weather to arrive, let's look at each species.


Ringneck Pheasant
The ringneck pheasant dates back to 1880 in the United States. The males feature copper and gold plumage and a red face, along with a crisp white collar. They spend most of their time scratching the ground searching for food and can fly very fast, but only for a short distance. They originally came from Asia, and have become a popular upland game bird, usually living along roads or in bushy cover. They also have a loud crow that can be heard across long distances.
Ornamental Pheasants
Ornamental pheasants are part of a package that includes five different color patterns of golden pheasants, as well as the Lady Amherst pheasant. The grouping also includes yellow golden pheasant, red golden pheasant, dark-throated golden pheasant, splash golden pheasant and cinnamon golden pheasant. As each of their names suggest, these birds all have different and distinct markings. Lady Amherst pheasants are especially beautiful with a black and silver head, a long grey tail and ump and red, blue, white and yellow body plumage common in the males of the species.
Chukar Partridge
Finally, the chukar partridge has black and white bars on both its flanks and features a black stripe that runs from the forehead across the eyes and down the head, almost looking like a necklace. The bird is native to the Middle East, but populations have taken hold and grown in parts of North America and New Zealand. Chukars rarely fly, meaning that they tend to become permanent residents of the area in which they live. They are a ground forager as well as a ground nester, and have been growing in popularity and population since their introduction to the continent in the late 1800s.
Cackle Hatchery is happy to provide you with any of these birds, as well as our extensive selection of chickens, water fowl, turkeys and much more. To learn more about any of our birds, chicks or even fertilized eggs, give us a call today at 417-532-4581.