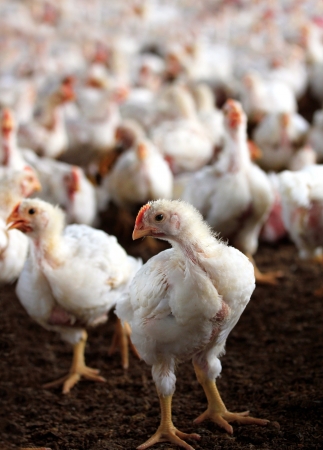 In June the fourth largest poultry-producer in the country, Perdue Farms, announced that they would begin implementing a variety of reforms designed to improve the lives of the chickens in their operations. Animal rights groups hailed the move as a milestone for an industry that has recently faced serious ethical concerns. Now GNP Co., the Midwest's leading chicken producer and maker of the Gold'n Plump and Just Bare chicken brands, is following suit and making some big changes as well.

Within four years the company plans for all of its Gold'n Plump chicken products to carry the "No Antibiotics-Ever" label, as well as the American Humane Certified farm program seal.
To achieve this second goal, GNP plans to invest about $80 million to grow its operations and increase the allotted space per bird by 10 percent. The company's Just Bare products have already earned both of these certifications.

The "no antibiotics-ever" label is distinct from "antibiotic-free" labels in that it indicates that antibiotics are completely absent from the company's operations. "Antibiotic-free," on the other hand, simply means that antibiotics are removed from animal diets for a period prior to slaughter. Minimizing the use of antibiotics in livestock can be challenging for food producers, but many researchers believe it could have long-term benefits for the industry by lowering the chance for antibiotic-resistant bacteria to develop.

Meanwhile, the American Humane Certification label focuses on ensuring the "five freedoms of farm animals." These are the freedom from hunger or thirst; freedom from discomfort; freedom from pain, injury or disease; freedom to express normal behavior; and freedom from fear and distress. These are the same standards that Perdue adopted last month.

Stay tuned for more updates from the Cackle Coop!