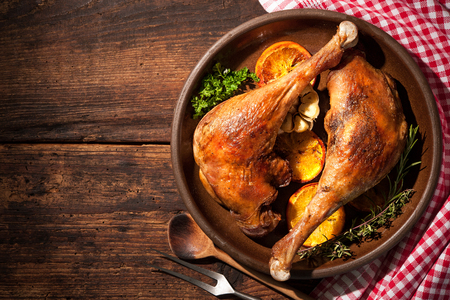 By: Victoria Brady
Thehistoricfoodie.wordpress.com
While some undoubtedly keep geese as pets or raise them just to sell, country folk and homesteaders often raise them for the table. This has not changed since the beginning of Goosedom. The noble turkey springs to mind when thinking of a special occasion meal but, while less common, the goose is elegant and sure to please the most discriminating of palates.
As a food historian, I'm well familiar with the term "green" goose. This in no way means there were green geese foraging in the farm lot. It refers to the age at which a goose is at its prime for tenderness and flavor. Most described a green goose as one dressed at between twelve and sixteen weeks of age. Some sources stretched it to a maximum of four and possibly to eight months, but always less than one year old. Other sources referred to those past sixteen weeks as stubble geese.
George Pollard said in 1904 that larger birds of the Toulouse variety sold readily at Christmas, but in other seasons the demand was for lighter-weight birds. The Emden always dressed well but were most desirable between nine and fourteen pounds.
Geese can be stewed, boiled, baked, braised, steamed or roasted depending on the time one wants to spend in the preparation. While space does not allow for a differentiation between these cooking methods, suffice to say they are not the same. Roasting is thought by many to produce the most pleasing appearance, perfectly browned on the outside and tender and juicy on the inside.
Geese that had passed the green stage were still perfectly edible but were usually prepared in ways that rendered them more tender than roasting. Steaming or parboiling before stuffing and baking was a common method, and dismembering the goose prior to cooking allowed the cook to adjust the time spent in the oven for the various parts.
They can be stuffed with a variety of mixtures or not as one prefers. Common ingredients for stuffing the goose included mashed potato, the ubiquitous bread crumbs, onion, apple, celery, carrot, turnip, thyme, finely chopped meat or liver, parsley, garlic, nutmeg, sage, sweet herbs, eggs, prunes, chestnuts, oysters, etc.
Let's look at some of the simpler recipes Grandma probably used. The recipes are from my historic cookbooks and provide brief instructions, therefore, the reader may want to use a meat thermometer and follow its direction to achieve the best results.
Roast Goose
Prepare and clean a goose about a year old. Steam until tender, dredge with flour, brown in the oven and serve with any preferred sauce.
Roast Goose II
Parboil for two hours, drain and stuff with seasoned mashed potatoes. Roast with two cupfuls of water in the pan, basting frequently. When done pour off the surplus fat, add enough water or stock to make the amount of gravy required, thicken with browned flour and a little butter cooked together, then season to taste.
Roast Green Goose With Apple Sauce
Clean and truss a fat goose not over four months old, and roast for an hour and a quarter. Season with salt and pepper, untruss and put on a platter. Add a cupful of stock to the drippings, skim off the fat and thicken with butter and browned flour cooked together. Pour over the goose and serve with Apple Sauce made as follows:
Peel, quarter and core a dozen large cooking apples, put into a buttered saucepan with one cupful of water, cover and cook slowly for twenty minutes. Add sugar to taste and press through a fine sieve (blend to desired texture).
Stewed Goose
Prepare and clean the goose, disjoint and cut in pieces. Cover with cold water, add a small onion sliced, a bean of garlic, minced, one cupful of chopped celery, a pinch of thyme, a bit of ginger root, and salt and paprika to season. Cook slowly until tender, take up, strain the gravy skim off the fat, thicken with flour rubbed smooth in a little cold water, add a little minced parsley, pour over the goose and serve.
Goose
"Never pick a goose! Just pull the skin right off—every inch of it. Then take a sharp knife and follow down the breast bone on both sides. Strip the breast meat clear away from both sides. Split each side of breast into two thin steaks (if a large goose). Dip these steaks in beaten egg, salt and pepper. Roll in flour and fry over a medium fire. That's new to most folks for goose and it's going to give you a new idea about geese when you try it". One would hope the rest of the goose carcass would be stewed down for soup and not wasted.
One finds a plethora of creative ways to serve left-over goose flesh. For instance, Réchauffé of Goose Legs.
Chop two small onions, fry in butter and when brown, add the minced meat from two goose legs. Moisten with stock or gravy, reheat, thicken with butter and browned flour cooked together, season with salt, pepper and minced parsley, and serve on toast.
Goose Grilled
Take the remains of a cold goose, dip the joints in melted butter, score them, pepper highly, sprinkle a little salt over, toss them in fine bread crumbs and broil over a strong, clear fire. [Bake until hot and browned at 325 degrees]
Sauces were indispensable in earlier times and while goose was served with a number of sauces, the most common was perhaps apple sauce followed by gooseberry, giblet, celery, onion and while not as commonly found a century ago, I believe all would relish a nice cranberry sauce equally well. Mashed potatoes and peas often served as accompaniments for goose.
Giblet Sauce
was chopped cooked giblets in gravy made from the drippings of roast birds.
Onion Sauce
Boil eight or ten . . . onions, change the water two or three times while they are boiling; when [cooked] enough, chop them on a board to keep them from growing a bad color; put them in a saucepan, with a quarter of a pound of butter, two spoonfuls of thick cream, boil it a little and pour it over. . .
Mrs. Rundell suggested a squeezing of lemon juice over the goose was a "great improvement".
Let's not forget, presentation is essential for those special-occasion meals. In "Better Fruit" the author suggests, "Cook some rings of apples clear in syrup [sugar and water]. Drain. Place a stewed prune in the center of each and sprinkle with chopped pistachio nuts. Arrange around the platter and place the [roast] goose in the center". A few sprigs of fresh mint would not be amiss in this arrangement.
SOURCES: Reed, Myrtle. "How to Cook Meat and Poultry. 1908.
Neil, Marion Harris. "Table Talk". 1912.
"Better Fruit". 1912.
Sheridan, Carrol Mac. "The Stag Cook Book: Written for Men by Men". 1922.
Mason, Charlotte. "The Lady's Assistant for Regulating and Supplying the Table". 1801.
Whitehead, Jessup. "The Steward's Handbook and Guide to Party Catering". 1889.
Rundell, Maria Eliza Ketelby. "A New System of Domestic Cookery". 1844.