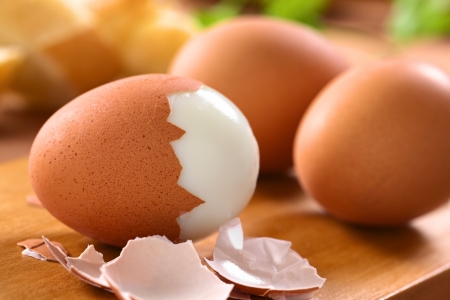 Boiling an egg might seem like a pretty straightforward culinary endeavor, but getting a boiled egg just right can be easier said than done. In fact, one recent survey found that "help boiling an egg" is the third-most-common request made by owners of smart speakers like the Amazon Alexa and Google Home. The good news is, chefs who aren't confident in their egg-boiling abilities now have access to several useful gadgets that promise to make perfect boiled eggs. Check out a few of the most popular options below!
Egglettes Egg Cookers
These As Seen On TV egg cookers consist of simple BPA-free silicone cups that you place in a pot of boiling water to make hard or soft-boiled eggs, mini omelettes, Eggs Benedict and more. They're a simple and effective egg-boiling solution, but just note that they're not microwave safe and not recommended for dishwashers.
Dash Rapid Egg Cooker
This self-contained electric egg cooker uses steam to make up to six boiled eggs at once. The Dash Rapid Egg Cooker is available in 5 classic colors, and it also comes equipped with trays for poaching eggs and making omelettes. It's simple and safe enough for kids to use, and it features a convenient auto-shutoff function that prevents overcooking.
Copper Chef Perfect Egg Maker
This egg maker is very similar to the Dash Rapid Cooker, but it's capable of cooking up to 14 eggs at once instead of just six. It might be a bit much for your normal breakfast routine, but it's great for making a batch of deviled eggs for your next dinner party. It also utilizes a "Perfect Peel Technology" that makes peeling boiled eggs quick and easy.
Have you tried any of these egg-cooking devices in your kitchen? Share your experiences with us in the comments!
And that's today's news from the Cackle Coop.