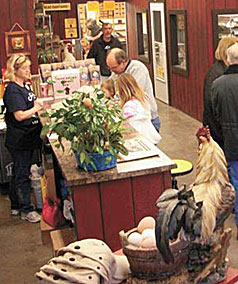 Cackle Hatchery is not merely a mail-order poultry hatchery. It also operates a year-around poultry-only products store and museum, and sponsors a popular annual chicken festival. The best time of year to visit depends on your purpose and on the time frame of your vacation.
To watch baby chicks hatch, the best time to visit is on one of the hatch days.
Hatch days are Mondays and Wednesdays from February through July, and Wednesdays in August and September. During this time the storefront is closed to the public. Cackle's Chick Days Calendar shows specific hatch dates and indicates which types of the 202 varieties of poultry hatchlings (chickens, ducks, turkeys, peafowl, etc.) you are likely to see on any particular day.
If your goal is to take a few chicks home with you, the best day to visit is the day after hatch day — Tuesdays and Thursdays from February through July; Thursdays in August and September. On those days, unexpected over-hatch (surplus) chicks are available for sale at the Cackle Hatchery Store.
For the best selection of chicks, plan on being there between 9:00 a.m. and 2:00 p.m.
You may not find a particular breed from your wish list, but you'll still have plenty to choose from without having to preorder. As a bonus, unannounced sales are presented at the store on that day only.
Saturday is the store's busiest day for visitors. By then the store offers a limited variety of chicks, but there's still plenty to see and do. You can watch two video tours, maybe see some eggs hatching in a display incubator, shop for any type of poultry equipment or supply you might need, purchase unique gift items, browse through a huge selection of poultry books and magazines, or just wander around enjoying the museum quality displays of poultry related antiques and memorabilia.
The chick order center is open throughout store hours, with a viewing window through which you can watch the friendly staff take orders on the hatchery's 20 phone lines, which light up continuously from the moment the store opens in the morning until it closes in the afternoon. Store hours are (Central Time) 9:00 a.m. to 5:30 p.m. Tuesday, Thursday, and  Friday, and 9:00 a.m. to 3:00 p.m. on Saturdays, from January through October. – Revised 6/21
You're in luck if your road trip spans the first weekend in October, when Cackle Hatchery's annual chicken festival takes place and most of the hatchery facility is open for tours. Activities include educational seminars with guest speakers, a chicken magic show, duck race, poultry-theme face painting, poultry displays, a petting zoo, hay rides, and lots of drawings for prizes. Other fun games and contests include a poultry-themed costume contest and an egg eating contest, both offering cash prizes. Abundant parking is available for the free event, which spans Friday and Saturday from 9:00 a.m. to 6:00 p.m., occurs rain or shine, and offers plenty of fun for old or young.
During the chicken festival, Clifton's West Side Café features lunch specials to entice festival goers. The café, owned by the same folks who run Cackle Hatchery, is right across the street from the hatchery, takes reservations for group tours throughout October, and is famous for its Friday night specialty — Pan Fried Chicken.
Cackle Hatchery is located in the heart of Missouri's Ozarks, in downtown Lebanon, right off I-44 and historic Route 66, just 15 minutes from Bennett Springs State Park and trout hatchery, 30 minutes from Lake of the Ozarks, and 90 minutes from Branson, Missouri and Silver Dollar City Theme Park. Be sure to include a visit to Cackle Hatchery as part of your Missouri road trip itinerary.
And that's today's news from the Cackle Coop.
Gail Damerow, author, Storey's Guide to Raising Chickens
Revised on 7/2021