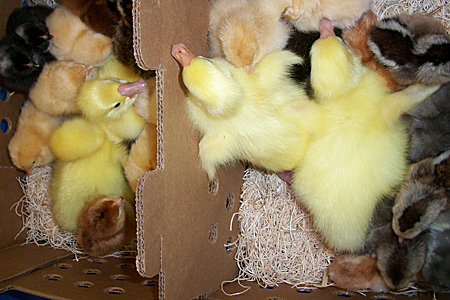 Baby chick ship dates and store pickup dates change with each calendar year. For this year's ship dates, consult our Chick Season® calendar.
Cackle Hatchery's Ship Dates
We hatch and ship baby chicks from February through September. To avoid weekend layovers at the post office, we hatch and ship on Mondays and Wednesdays, although exceptions have to be made for postal holidays.
The United States Postal Service delivers 98% of all chick or hatching egg orders on the second day after we ship. If your order ships on Monday, it should arrive at your local post office on Wednesday morning. If your order ships on Wednesday, it should arrive at your local post office on Friday morning.
We include multiple phone numbers with your order, so your local post office can call you as soon as your chicks arrive. It's a good idea to also notify your carrier ahead of time that you are expecting chicks. If you don't receive a phone call early on the morning you are expecting chicks or hatching eggs, please call your post office to find out if they arrived.
Ideally, you'll want to claim your chicks or eggs at the post office, so you can get them right home. Yes, your carrier can and will deliver them, but the increased travel time exposes them to the risk of excessive jostling and/or extreme cold or heat. In fact, in July and August we temporarily suspend hatching egg shipments, because exposure to high heat reduces hatchability.
Nearly all of Cackle Hatchery's baby chicks are ordered and paid for in advance by customers wishing to reserve a specific ship date. When an order is placed and paid for, we take those expected chicks off the market, which is why some dates are sold out well ahead of time.
Shipments of chicks and eggs are limited from October through January, although we do continue to ship supplies, grown fowl, and a few types of hatching eggs and baby poultry during those months. The Chick Season for each type of poultry is determined by its natural breeding season.
Cackle Hatchery's Store Pickup Dates
If you pre-order chicks you plan to pick up at the Cackle Hatchery store, your pickup date is the day after your reserved hatch date. So if your hatch date is a Monday, then you must pick up your chicks the next day (Tuesday) from 9:00 a.m. to 5:30 p.m. Only rarely do we allow chicks hatched on Monday to be picked up first thing Wednesday morning.
The same goes for a Wednesday hatch date. Chicks must be pick up on Thursday. Only in a rare circumstance will we hold chicks for pickup on Friday morning.
For the comfort and survival of your baby chicks, it is essential that you get them home by noon on either Wednesday or Friday. And they must go straight into your pre-tested and pre-warmed brooder. Treat baby chicks picked up at the store the same way you would care for chicks shipped by mail.
If you choose not to pre-order baby chicks, but prefer to take a drive to Lebanon and see what's available, here are some tips:
Your best chances of finding a good selection are on Tuesday mornings from 9:00 a.m. to noon and on Thursday mornings from 9:00 a.m. to 2:00 p.m. At those times we offer over-hatched chicks left over from the previous day's shipments.
Sometimes Cackle Hatchery offers amazing sales on those days. Special sales apply on those days only, and all items on sale must be paid for and taken home that day.
The store front is closed during hatching days until further notice.
We keep a few chicks in the brooder all week, but nowhere near the breed selection you would find on Tuesday and Thursday mornings. A lot of customers like to stop by Cackle Hatchery on Saturday. Although the selection of chicks is limited by Saturday, visitors to the store sometimes expect to find chicks in all of our 202 breeds available to take home that day. To avoid disappointment, we emphasize that the chick selection is extremely limited on Saturdays.
And that's today's news from the Cackle Coop!
-Revised 06/21