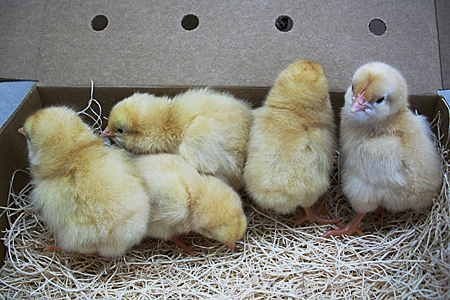 Every spring, Chick Season® causes a surge in shipments through the United States Postal Service. The annual increase in cargo, consisting of chicks and support accessories, creates space issues. As a result, chick shipments may get delayed in transit. Sometimes the surge in numbers of packages will slow things down to the point that chicks miss connecting flights. These issues occur every year.
The COVID-19 pandemic has added at least five new issues to normal Chick Season shipments.
Some regional postal centers are experiencing staffing shortages because of the pandemic. However, according to a Postal Service alert, "The Postal Service is undertaking all reasonable measures to minimize the impact to our customers."
Cackle Hatchery®, along with other chick hatcheries, is experiencing high demand for baby chicks. This unprecedented demand strains the normal systems for processing and hatching, and for providing timely customer service.
"Chicks are now being booked and reserved way in the future, because they are currently sold out in the near future," says Jeff Smith of Cackle Hatchery. "On our website we have an availability tab under each breed. We encourage customers to check availability before placing an order."
People under stay-at-home orders are buying more food online. Many food shipments must be packed with dry ice, which is a solid form of carbon dioxide. As it melts, the carbon dioxide escapes into the air, reducing the percentage of oxygen in the air. Although carbon dioxide itself is not toxic, chicks have a high metabolic rate and suffer when oxygen levels are reduced.
Live animals, including chicks, therefore legally cannot be shipped in the same truck or plane as packages that contain dry ice. So, as a result of the increase in dry ice shipments, some chick shipments are held back, incurring late delivery. "Of course, that makes it difficult for chicks to thrive and rebound," says Smith.
An overall spike in online purchasing has strained the capacity of most shipping companies, including the Postal Service. E-commerce giant Amazon, among others, has seen a huge surge in demand. Because of this higher demand, the Postal Service has issued an alert indicating that Priority shipments may take a day or two longer than usual.
However, the longer delivery time does not apply to chicks. So even though your order tracking may show an estimated delivery time of 3 to 5 days, chicks should be delivered within 72 hours. But brooder kits, chick feeders and waterers, and other supporting products may be delayed.
Along with the higher demand for chicks has been an increased demand for supporting accessories. "Delays in shipping non live products occur because these items were not inventoried for the unanticipated increase in demand," says Smith.
Any items that are needed to ensure the comfort and safety of delivered chicks must be ordered well in advance of the chicks' delivery date. Which is always a good idea, anyway, as a brooder should be fully set up before the chicks arrive. Knowing how to care for chicks delivered by mail will give your baby chicks the best possible start in their new home.
And that's today's news from the Cackle Coop.
Gail Damerow is the author of Hatching and Brooding Your Own Chicks