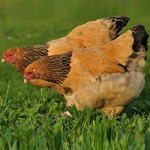 International Heritage Breeds Week is celebrated each year during the third week in May. So what exactly are heritage poultry breeds? According to The Livestock Conservancy, heritage chicken and turkey breeds share the following characteristics:
They can reproduce through natural mating.
They have the genetic ability to live long and vigorous lives.
They thrive outdoors under pasture-based management.
They have a moderate to slow growth rate.
Additionally, heritage chickens must have been accepted into the American Standard of Perfection prior to the mid-1900s, meet the guidelines established for the breed and have genetic lines tracing back multiple generations. Many once-popular poultry breeds that qualify to be called heritage have been replaced by modern genetic lines that are bred for efficient industrial production, with a resulting loss in genetic diversity and the possibility of losing some breeds entirely. The purpose of International Heritage Breeds Week is to raise awareness about these endangered heritage breeds.

How will you participate this year? Aside, of course, from keeping a heritage breed yourself, here some suggestions offered by The Livestock Conservancy:
Follow and tag your favorite livestock conservation organization on social media and use the hashtag #HeritageBreedsWeek to show your participation.
Coordinate with local heritage poultry keepers to develop an exhibit at your local farmer's market, mall, shopping center or other public area displaying information about their breeds and examples of eggs laid by heritage breeds.
Arrange to bring heritage poultry breeds to a classroom, providing students with the opportunity to learn about the importance of genetic diversity and conservation.
Host a classroom field trip to a local heritage chicken or heritage turkey farm or a historical farm that keeps heritage poultry.
Sponsor a coloring or poem-writing contest for students and arrange to have their drawings or poems displayed at a local school, public library, hospital, or nursing home.
Organize a poultry petting zoo where children and their parents can see, touch, and learn about the different breeds of heritage poultry.
Host a fundraiser — such as a walk-a-thon — and donate the money to your favorite national conservation organization, breed club or association.
Suggest that your area newspaper interview local heritage poultry farmers or ranchers to find out how they are working first-hand to protect endangered breeds of heritage poultry.
International Heritage Breeds Week is celebrated each year during the third full week of May, and the Saturday ending that week is International Heritage Breeds Day. Use the opportunity to advocate for conservation of heritage poultry and the preservation of the amazing genetic diversity they offer.
Gail Damerow is the author of Storey's Guide to Raising Chickens